Everyone who visits a location comes with a specific purpose, for example, attending an event or collecting a passport at a town hall. Visitors with physical, sensory, mental, or intellectual disabilities and/or people with chronic illnesses need accessibility. An easily accessible location is pleasant for every visitor and employee. Accessibility also means that in the event of a calamity, all those present can quickly get to a safe place without obstruction. Accessibility has not been considered everywhere. For example, people with a disability are not always mentioned in safety plans and not all emergency exits are wheelchair accessible. In addition, communication about an emergency is not accessible to everyone, such as people with visual and hearing impairments. It is good to seek advice for a good risk assessment.
Accessibility as the norm, inaccessibility as the exception!
Accessibility is a right, not a privilege. Making all types of locations accessible has been an obligation since the ratification of the UN Convention on Disability in 2016 which confirmed the rights of persons with disabilities.
Convention on the Rights of Persons with Disabilities (CRPD) (2006)
Sets out the rights of people with disabilities in various policy areas (living, working and recreation), based on the principle that people with disabilities can fully participate in society.
Article 30 of the CRPD states that people with disabilities should be able to participate in cultural life on an equal basis, and appropriate measures are needed to make this possible. The obligation arising from the UN Handicap Convention, which has been in force in the Netherlands since its ratification in 2016, indicates that all types of locations, including event locations, tourist areas, and festival sites must become accessible. The basic principles are accessibility, equality, effectiveness and independence. No one is obligated to the impossible, but the boundaries must be pushed.
Accessibility requires insight into standards such as ITS and NEN1814. Welkom Toegankelijkheid & Evenementen can help you to make your location accessible to people with various types of disabilities.
Accessibility and safety
Perhaps the most important aspect of accessibility is how to get people with a disability to a relatively safe place in the event of an emergency. Accessibility of built facilities (outdoor spaces, buildings and events) must ensure that all those present can quickly get to a safe place in the event of a calamity without obstruction. If someone with a disability has to leave a location quickly in the event of an emergency, in most situations they will encounter problems such as poor accessibility and usability of escape routes and emergency exits, as well as height differences (stairs, thresholds and steps) and inaccessible information about the escape routes. To get a good insight into this, it is good to have your location tested for accessibility and for safety in case of emergencies.
Hospitality
Events and tourist locations revolve around hospitality and experience. No one likes having to take an alternative entrance where there is no red carpet. People with disabilities are often directed to the alternative entrance due to its accessibility. The accessibility also has challenges within the experience, for example, enjoying a stage experience and using the buffet require knowledge about accessibility. The book 'Maak je event toegankelijk voor iedereen' (only available in Dutch) contains many tips about an equal experience.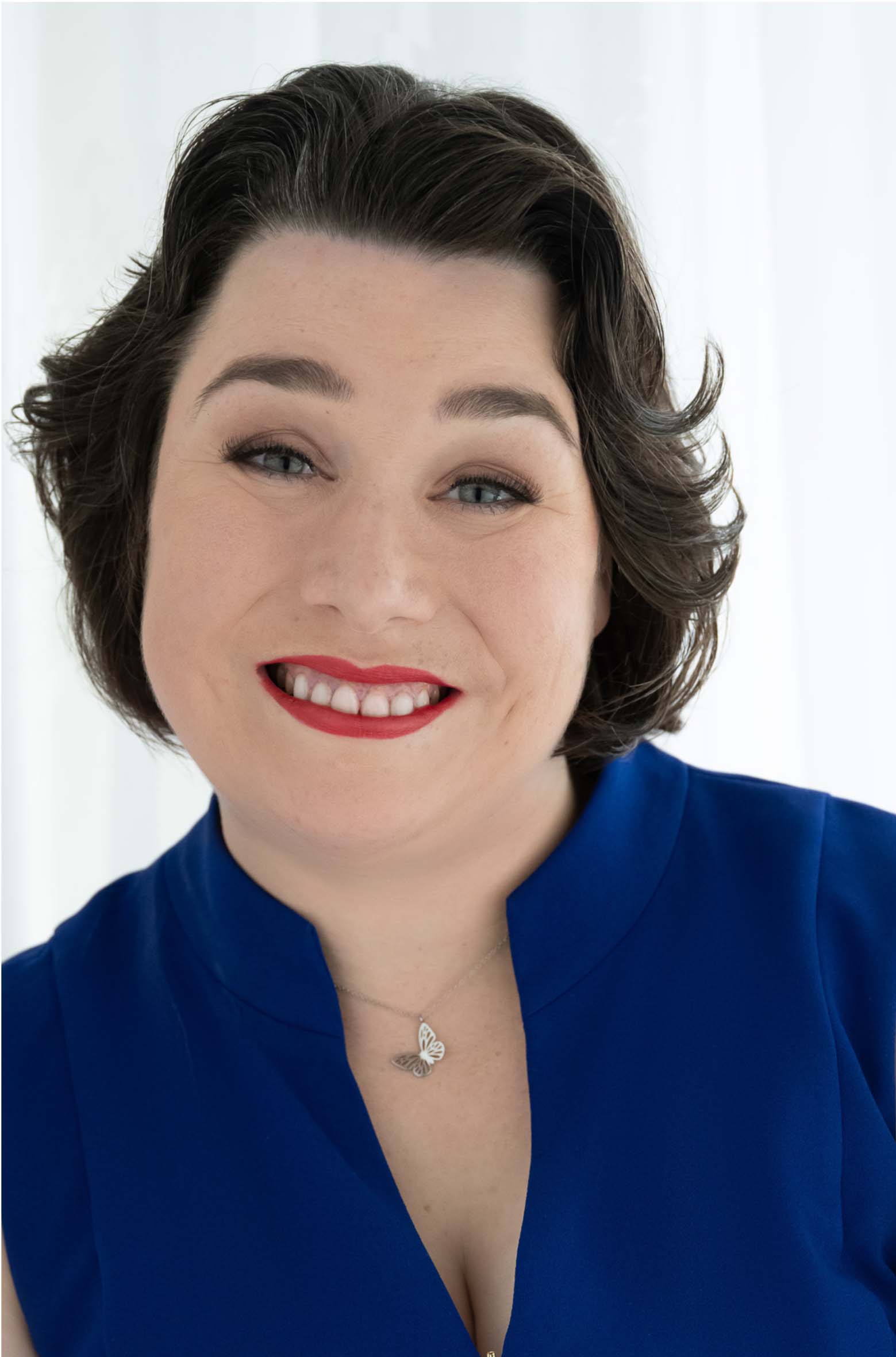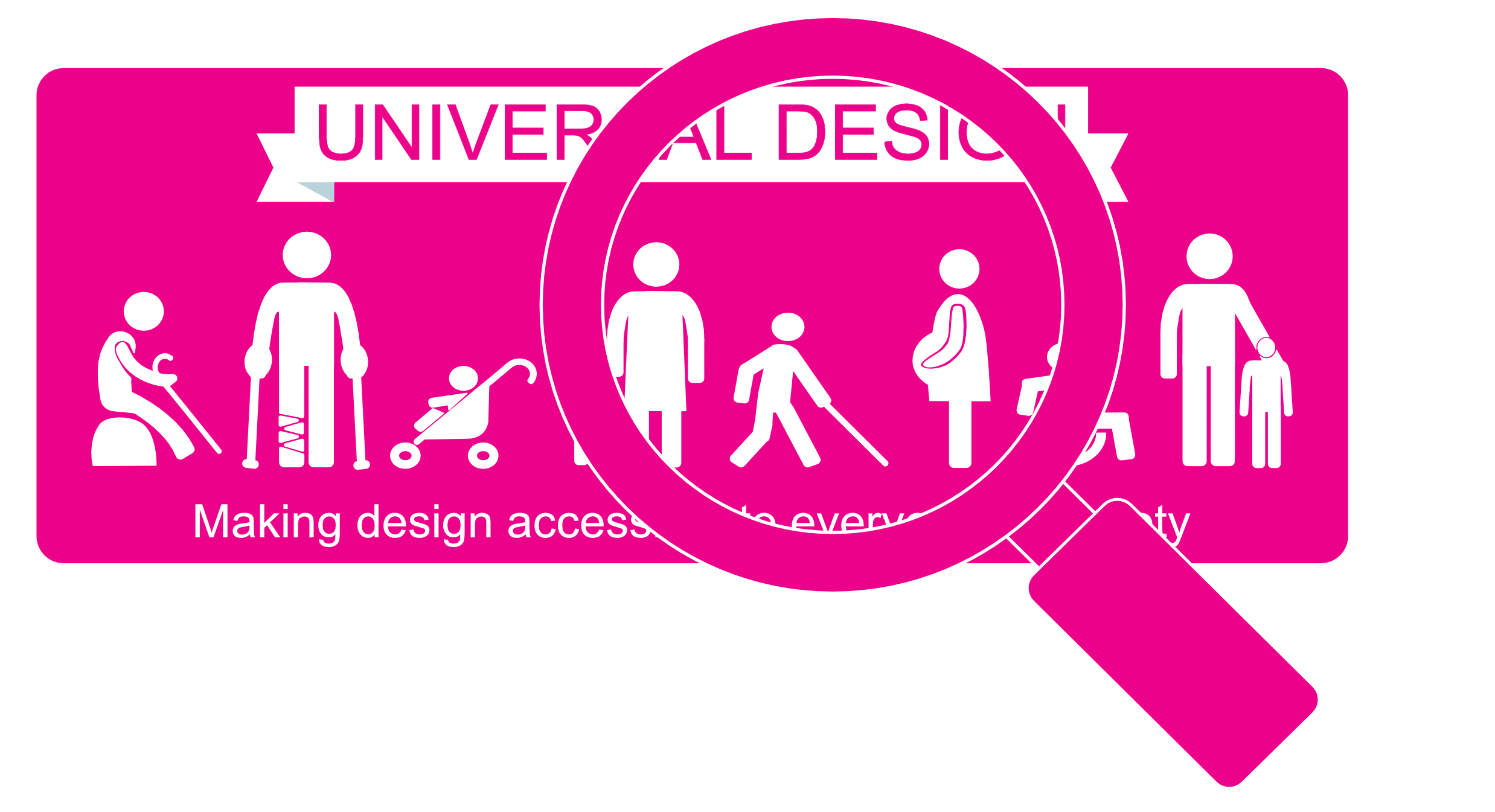 About Welkom Toegankelijkheid & Evenementen:
Welkom Toegankelijkheid & Evenementen translates to "Welcome Accessibility and Events". It was founded in 2014 by Marianne Dijkshoorn, and focuses on event organisation and advice on accessibility for people with various types of disabilities in buildings, public spaces and events.
The first accessible festival:
"In 2008 I first came into contact with accessibility at events. With my friends, I wanted to go to a festival that was located on a hill. Walking up a steep incline is a challenge due to my disability. I found a listening ear with the organisation, so I unknowingly made the first festival in the Netherlands accessible to people with a disability.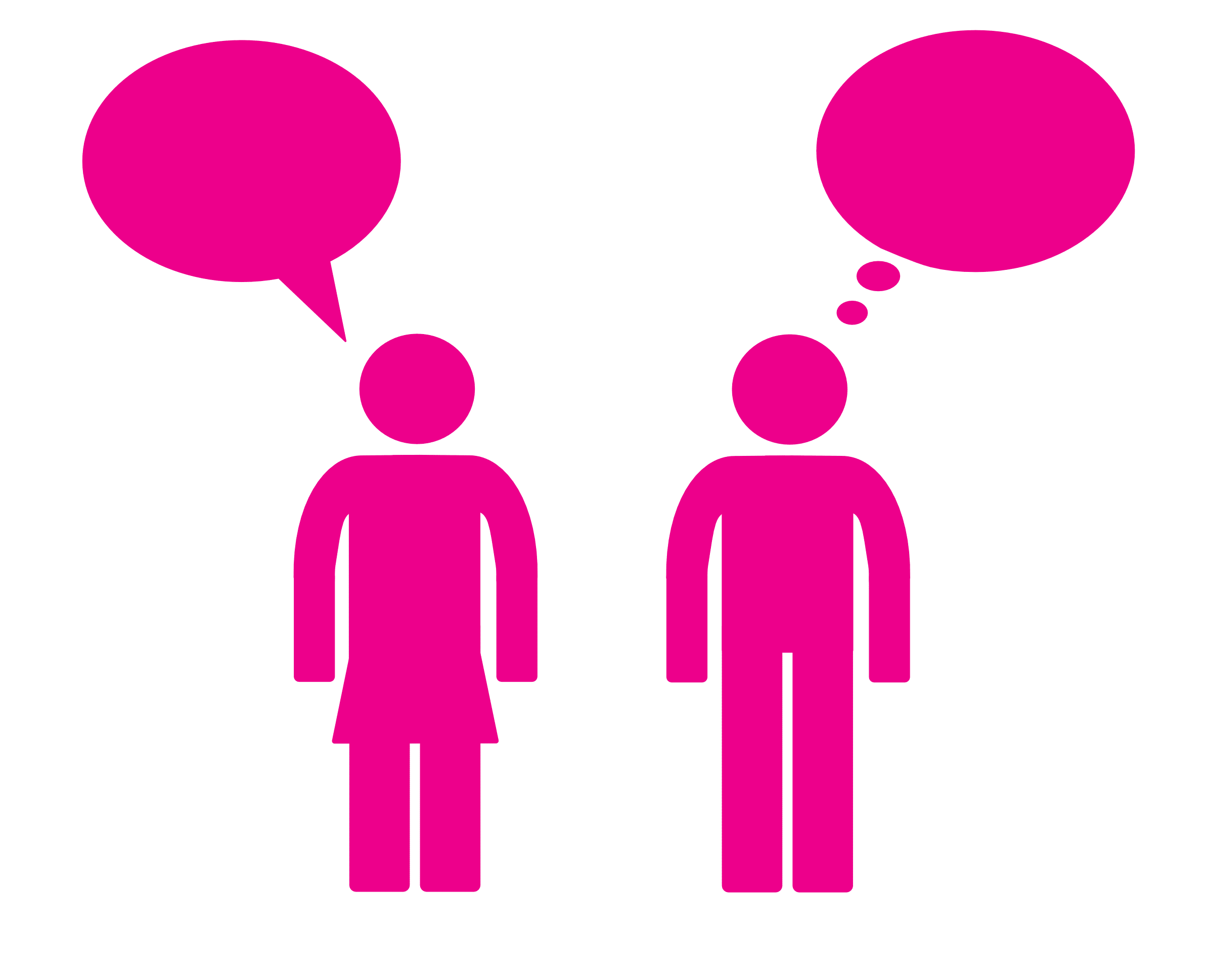 Why I started Welkom Toegankelijkheid & Evenementen:
"In 2014 I founded Welkom Toegankelijkheid & Evenementen to make my dream of becoming an event organiser come true. My passion for event organisation comes from my background and education. My talent for it was proven by winning the award for up-and-coming event talent at the 'Houten Giraffe' in 2011. Next to organising events, the focus of my company shifted more and more to advise on accessibility.
Book "Maak je event toegankelijk voor iedereen":
"In 2008 I first came into contact with accessibility at events. With my friends, I wanted to go to a festival that was located on a hill. Walking up a steep incline is a challenge due to my disability. I found a listening ear with the organisation, so I unknowingly made the first festival in the Netherlands accessible to people with a disability.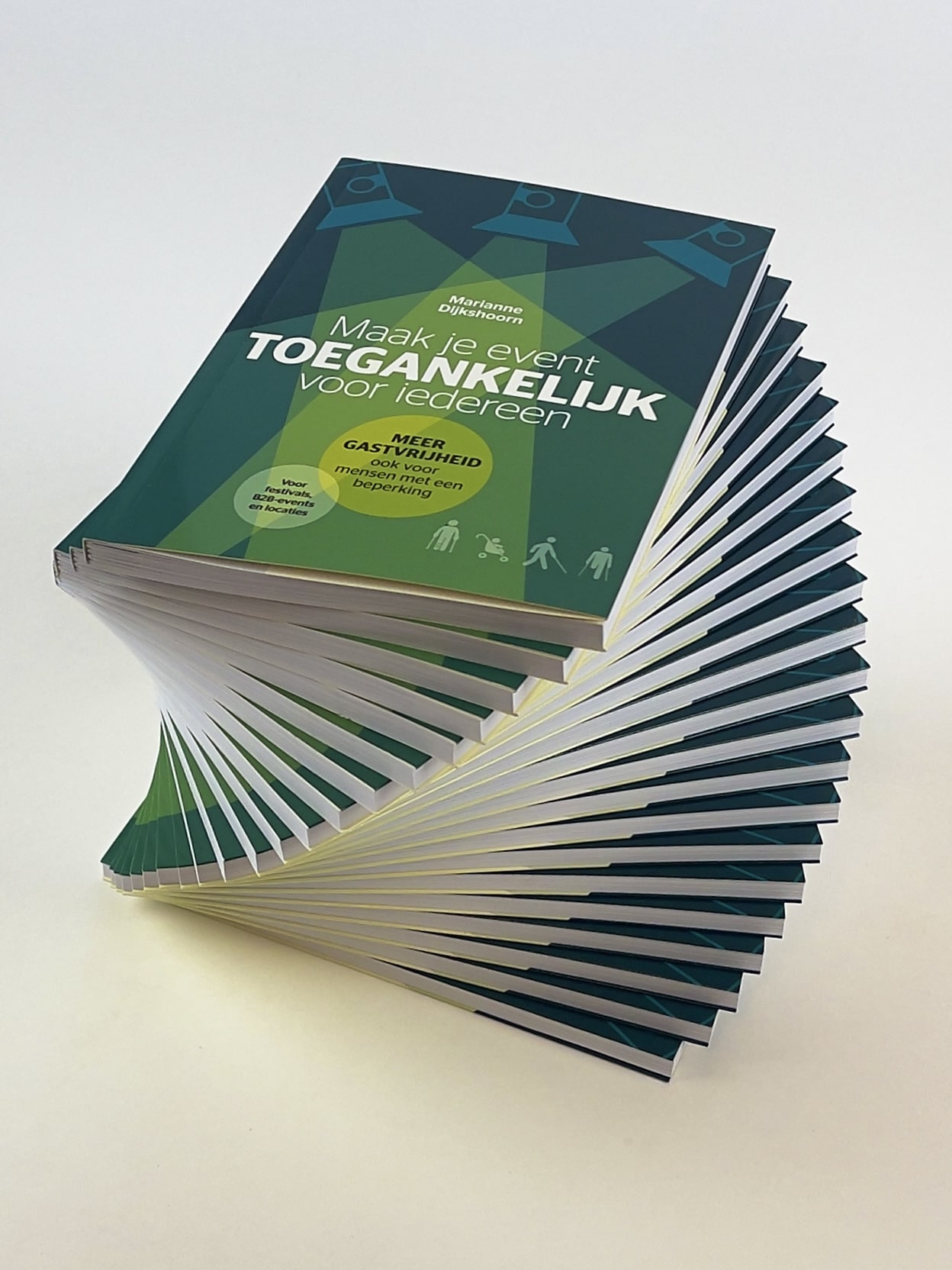 The service of Welkom Toegankelijkheid & Evenementen
Marianne Dijkshoorn can help you with the organisation of an accessible event, making your location accessible, training you and your staff in the hospitable reception of people with disabilities, and delivering a lecture on accessibility and/or hospitality, so that everyone feels welcome. With accessibility advice, you go beyond just an experience; you get something with which you can further build on the hospitality at the location.
Advice on the accessibility of various locations:
"In addition to advising many festivals and event locations, in most countries, there are no standards for accessibility, and advice from people with a disability alone is not always helpful. I can test your location based on expertise; I have more than 10 years of knowledge and experience in accessibility for people with visual, auditory, physical and mental disabilities. I have also been able to advise on the accessibility of buildings such as stadiums, town halls and museums, as well as outdoor spaces such as playgrounds, tourist locations and residential areas."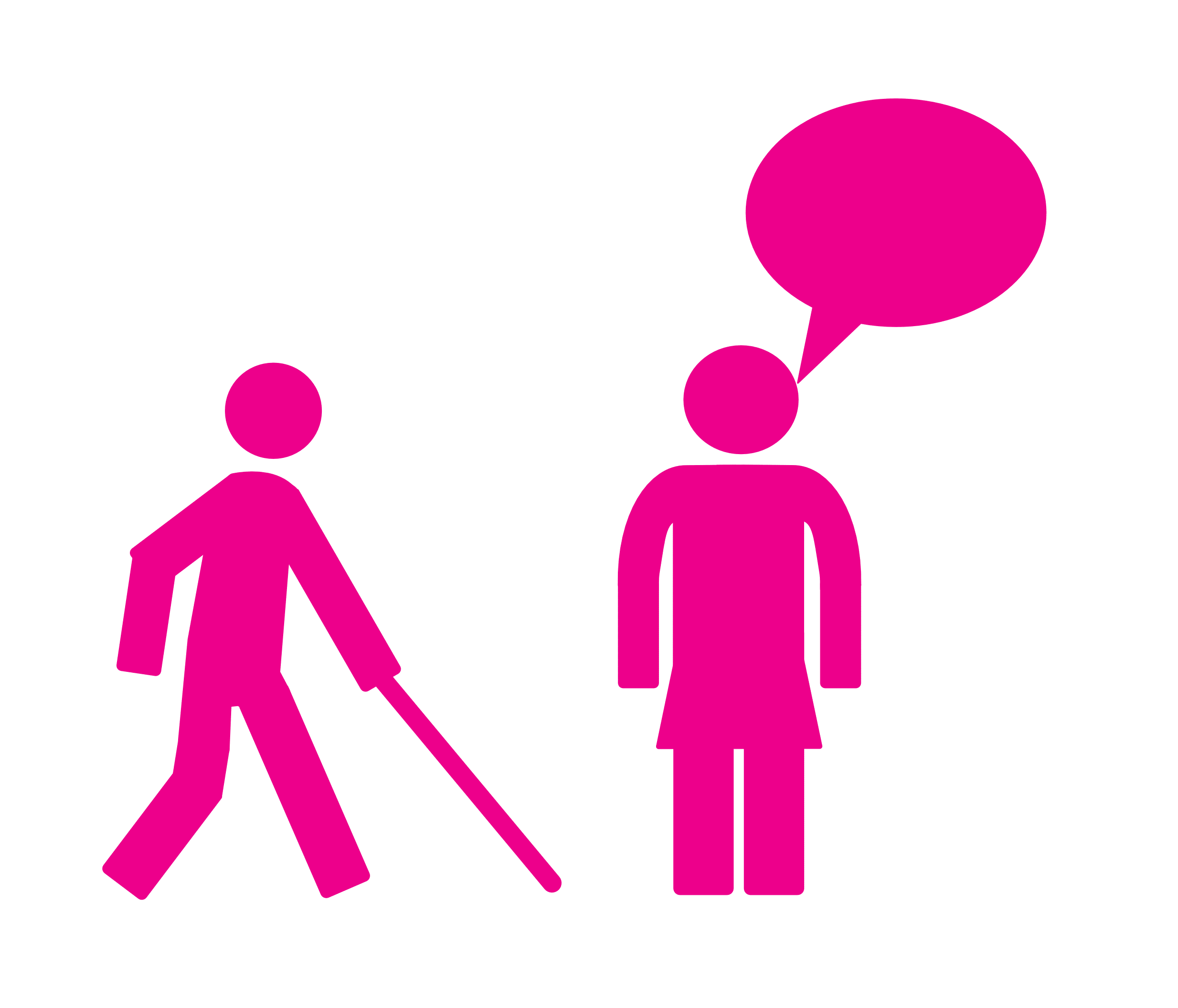 Lecture on accessibility and / or hospitality:
Accessibility, diversity, inclusion and hospitality together form a topic for many organisations during a conference. Would you like a lecture/guest lecture/panel contribution/workshop, or another speaker contribution?
Marianne Dijkshoorn has done in-depth studies to make all kinds of locations accessible, from events to residential areas, and from public and private buildings to public spaces. She knows everything about hospitality, experience and safety in the field of accessibility for people with a disability. Because of her own limitation—she has difficulty with walking—she knows like no other how to connect theory with practice. In the speaker's contribution, there is always a suitable message that the audience can use.
Training to hospitably receive people with disabilities:
What do people with disabilities need to be hospitably received? In this training, I let you experience, in a small group, what it is like to roll through a location with a wheelchair, to find your way with a blind cane and to experience what it is like to be hard of hearing.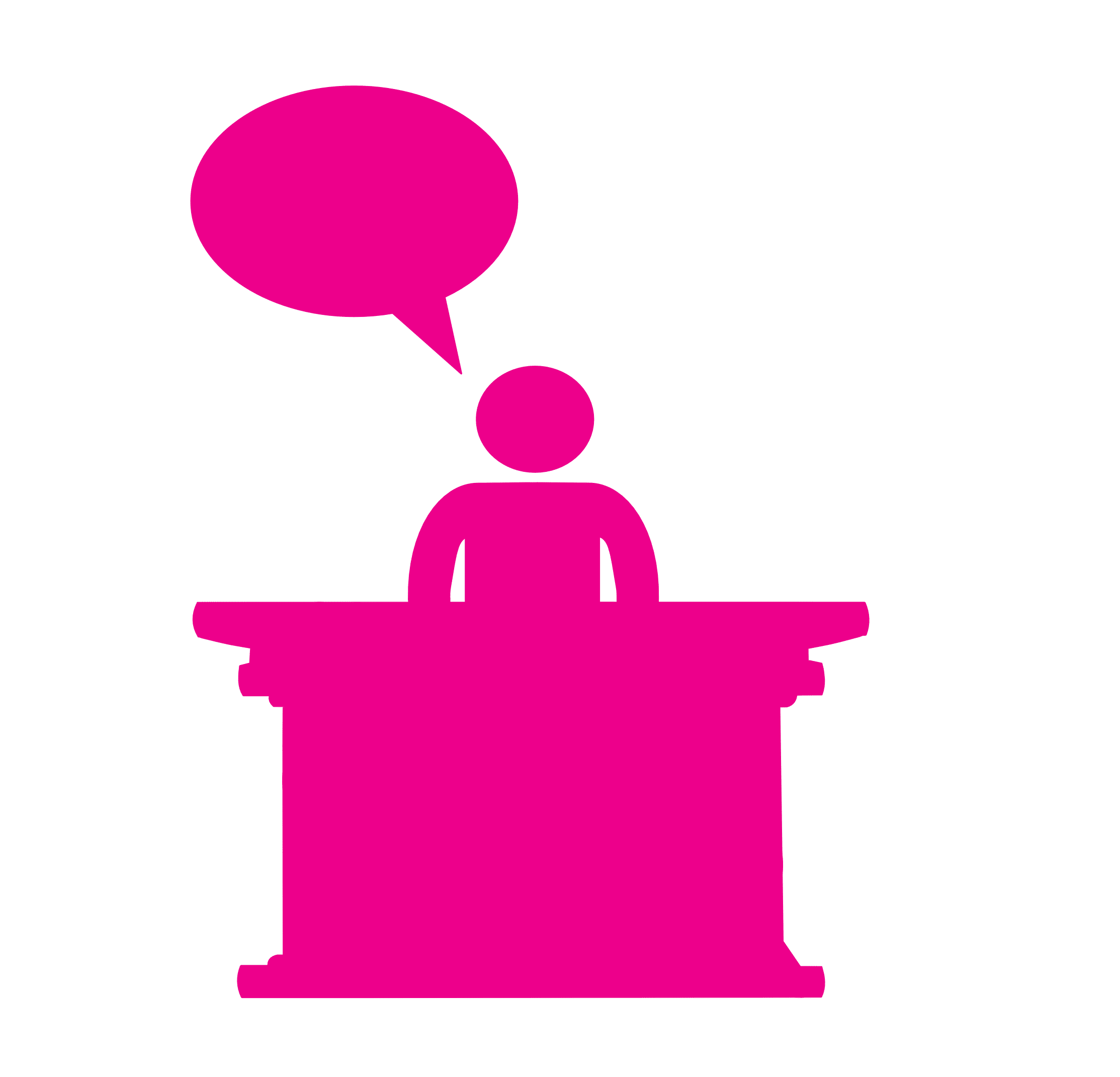 Wheelchair mats
If you visit a restaurant or meeting as a walking person, you can expect a chair. A wheelchair user brings their own chair. Often this is overlooked, and that is why the user needs to park their wheelchair somewhere, such as in a aisle, which creates safety risks. After all, from an evacuation point of view, the aisles must remain clear. It feels much more hospitable to a wheelchair user if a place has been reserved for that person.
You can indicate the place with a so-called wheelchair mat, which is custom-made with the logo of your organisation on it. In the photos, the mat is printed in black and white. These mats can also be made in the house-style colours of the organisation.
The large mat is used in conference halls and measures 95×95 centimetres; the small 70×70 mat is a good solution for dining tables and conference tables. The large mat costs €99.95 (excluding shipping and VAT) and the small mat costs €89.95 (excluding shipping and VAT). It is advisable to order at least two mats of each type so that you can always receive two wheelchair users at the same time. With every order, a free robust storage tube of 100 centimetres long and 11 centimetres wide is supplied for each size. Each tube can take up to four mats.
The mats are easy to clean with water and can be reused many times, both inside and outside. For extra safety, they can be stuck in place with appropriate tape.
For the design of the mats, a logo in ESP format and the numbers (CMYK or RGB Hex), or a digital example of the house-style colours are required. The delivery time is 10 working days after approval of the design on average; this is excluding shipping time.
If you would like to order these mats or receive more information, please email info@geenbeperkingmeer.nl.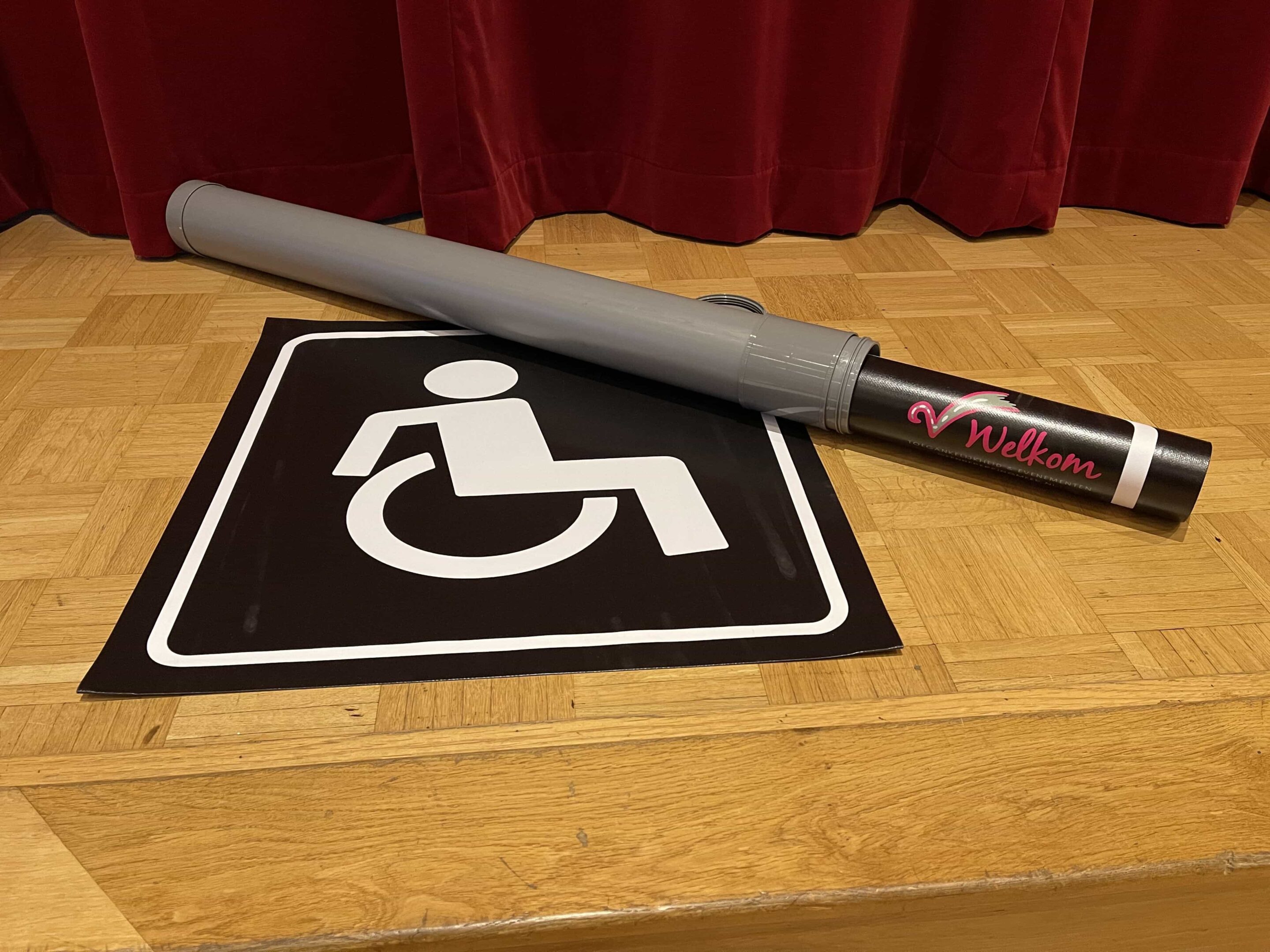 Would you like a lecture, workshop panel discussion or live interview about accessibility during your meeting
I, Marianne Dijkshoorn, have a lot of speaking experience, from ING Bank to Eurosonic Noorderslag Conference and from Event Security Annual Congress to VNG Annual Congress. The contributions I give are always pragmatic and include examples from my extensive portfolio.
Portfolio
A small selection from my portfolio: accessibility advice delivered to International Documentary Film Festival Amsterdam (IDFA), Kadaster, World Forum, the Hague, Mystic Garden Festival, Appelpop and DockYard Festival (ADE). In addition, I successfully lobbied, together with Possibilize, for an accessible Eurovision Song Contest in Rotterdam. Finally, I received nominations for the Viva400 (2018), the Her Abilities Award (2019) and the Rotterdam Business Woman of the Year 2020/2021. I am always looking for opportunities in accessibility and hospitality. In my speaker's contribution, I always give the audience an appropriate message that they can use. I can completely tailor my contribution to your wishes and the needs of the target group.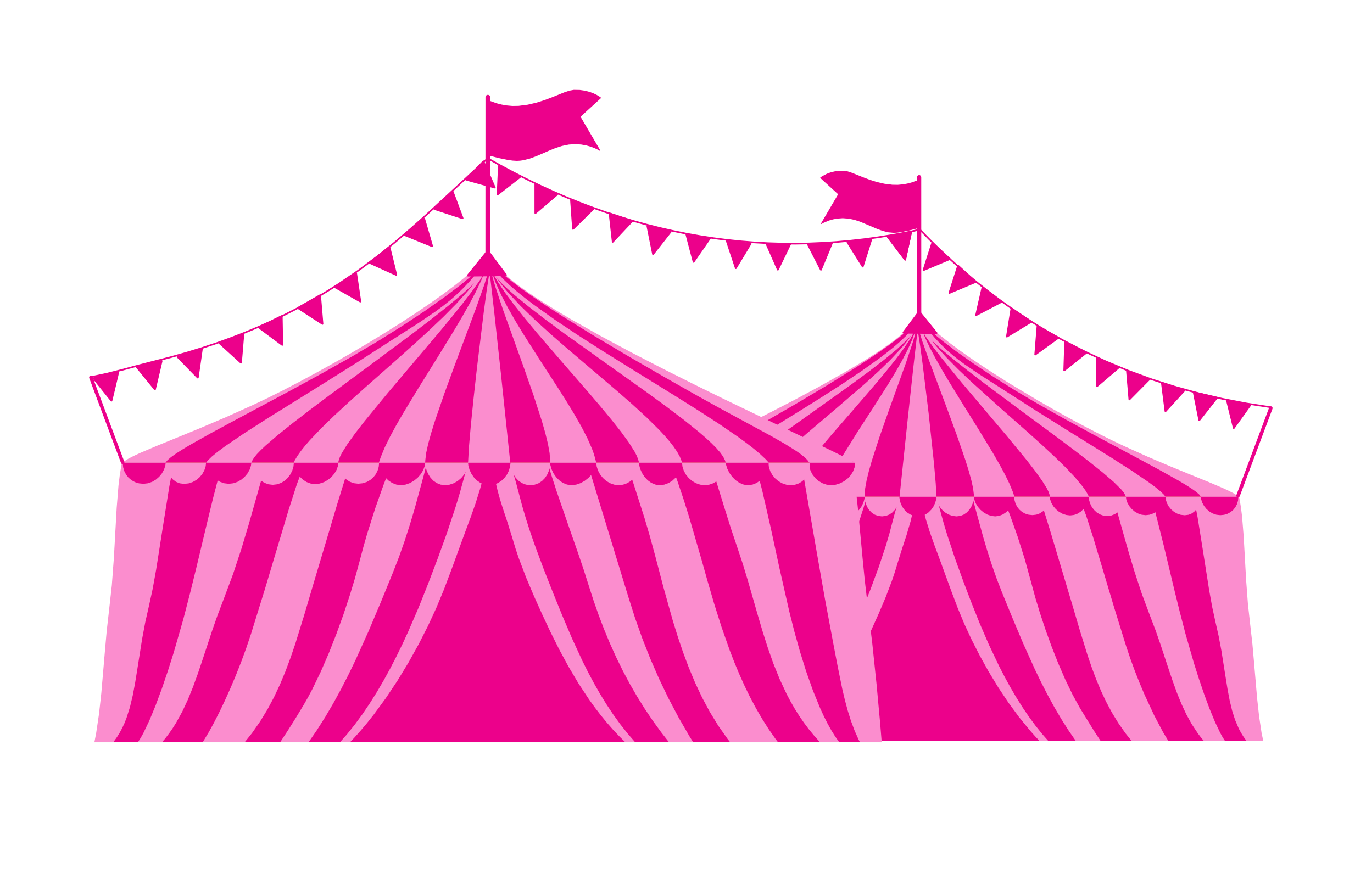 Welkom Toegankelijkheid & Evenementen doesn't publish a newsletter. However, news updates are shared on Marianne Dijkshoorn's LinkedIn page regularly.